Blog
How to ensure the quality of refurbished phone
by Mahak Garg on Jul 23, 2023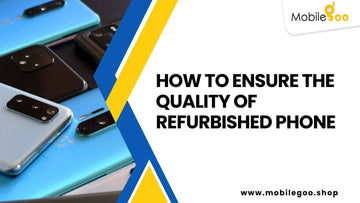 Want to get a new phone, or wants to get rid of old phones that were generating problems while using them, who doesn't want a new android phone in their hand and the feeling is even better when it's some sort of new model presented by the brand, so what's keeping you from going and getting one for yourself? Obviously, the price, which is really high, and sometimes we are unable to pay it or do not wish to spend money on it while still desiring to acquire one!
So, what is the solution?
Let me explain, a refurbished phone. Yes, nothing beats a refurbished phone that is best in budget and has a large range of available variations. However, before you put a refurbished phone in your pocket, you should check its quality.
The safest way to acquire a refurbished phone is from a trusted website. If you want to get one high quality refurbished phone for yourself, you should definitely go with Mobilegoo.
What does quality include? A better screen, a better camera, a better battery, no damages, and many more. It's a large job, but these recommendations will help you ensure the quality of your refurbished phone quickly and precisely.
Ways to ensure the quality of refurbished phone
Always go for good condition Refurbished phones
Refurbished smartphone refers to a device that has been returned to the manufacturer or retailer, and undergone to the variety of testing procedures in order to determine their quality based on their physical state. 
These tests are mostly used to determine the maximum wear and tear on the device's body, the hardware condition, and the overall software responsiveness of the mobile phone.
There are few conditions of refurbished phones which are classified as-
Like New
As the name suggests, a product that almost looks like a new one. Original product which has been opened and may have been barely used. You will get an original product with 12 months warranty from Mobilegoo.
Superb
Highest selling  product comes in superb condition at most affordable price. Product may have minor signs of usage. Product passed through 55+ quality checks done by the expert technicians and is 100% functional. Comes with no dents and may have few scratches. You will get minor sign of usage on products and comes with 6 months of warranty from Mobilegoo.
Good
Most economical product with 100% functional. Product may have moderate signs of usage. Product passed through 55+ quality checks done by expert technicians and is 100% functional. May have few scratches/ dents. You will get 6 months of warranty from Mobilegoo.
Looking for anything is always risky unless done from a reliable source, and the website is one of them. Purchasing a refurbished phone online from website like mobilegoo is a better option. They sell smartphones that have undergone extensive quality inspections, and they also provide warranties for these refurbished phones. You can acquire a good grade smartphone for a significantly lower price than the initial pricing.
Look for website where accessories are available  
When purchasing a refurbished phone online, you can get a great deal. Websites like mobilegoo also have an accessories section where you can get the necessary accessories for your new refurbished phone, such as a charger, USB cable, Powerbank, earphones, and headphones from top brands like Nextech and Philips.
Replacement Policy of Refurbished Mobile Phones
Always choose websites that provide a replacement policy for your items. The replacement period should be no less than 6-7 days, so that if you change your mind or receive a phone that is incompatible with you, you can still obtain a new one. Replacements are a hallmark of a good retailer and a promise to the consumer to provide the best service possible.
Beware of the fake phones
This problem usually occurs when you buy refurbished phones from a stranger or in markets that do not offer any guarantees or replacements. This is why websites that take responsibility and offer replacements are essential when shopping for refurbished phones. Always check the phone's setup menu for technical details in order to evaluate the hardware to verify you are not getting a phoney phone. There are even apps that allow for rapid hardware checks on phones.
Consider these quick steps and get your inexpensive yet great used mobile phone as well as the required accessories from mobilegoo to get the best deals and services.
Make Your Decision
Ultimately the decision is yours but if you want to go with the online purchase you can visit the website mobilegoo.shop for exciting deals on high quality refurbished phone. 
There are many advantages of shopping from Mobilegoo.shop such as:
7 days Replacement Policy

Upto 12 Months Warranty

Available on EMI

55+ Quality Checks
So, if you are looking to buy a used or refurbished mobile phone along with the accessories then do visit mobileego.shop for the best user experience. You will get the mobile phone at low prices with the best quality, so why rethink and waste your time on unnecessary things, just come to mobilegoo.shop.  
Hope you find the article informative, and if you have any queries related to this article, please feel free to ask in the comment section.
1 comment