Blog
Pros and cons of buying open box phone
by Mahak Garg on Aug 04, 2023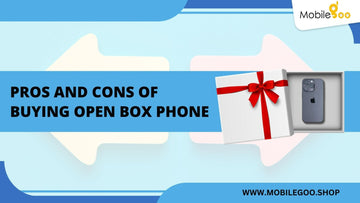 When you want to get a new phone but the expense of a smart phone makes you hesitate, you usually turn to open box, refurbished phones to acquire a better and more affordable phone.
Have you considered getting a new gadget after using it for a few months because of all the new features, models, specifications available in the new model of the phone, but the price you invested a few months ago was high and now you don't want to spend more money for the gadget but as a technut so being highly affectionate towards the gadget you have looked for several alternatives to get all the new mobile phones but at a lower price so, the unbox phones are a perfect alternate for you .
However, with the increasing demand for mobile phones, unboxed phones have emerged as the new market for smartphone lovers, providing a wide range of low-cost smartphones for everyone.
There are those who cannot buy new phones, but the standards of smartphones nowadays are extremely high, thus purchasing refurbished phones and  open box phones is regarded more cost effective.
Before buying an open box phone it is important to know about the pros and cons of buying it .
What are Open Box Phones?
An open-box item is one that has been opened and is frequently resealed or packed by the reseller. It's worth mentioning that an open-box product is just an opened box, implying that the original product within are brand new or minimally used.
Sometimes these open box phones are used as a display model.
There are various pros and cons of using an open box phones –
Pros of buying an open box phones
There are various pros of buying an open box phones
Less Expensive
Warranty

Minimally used or Unused

Comes to you after proper inspections

Come in Original packaging
Less expensive 
Because open box phones are frequently sold at discounted costs, purchasing these phones saves a significant amount of money while also providing a higher quality phone. These phones are much more affordable than the new mobile phones still provide a better and trustworthy quality .
Warranty
These open box phones come with the warranty upto 12 months , and while they are under warranty, you have the option of having them recovered if they are damaged or if any difficulties arise.
Proper Inspection
These phones are inspected properly before putting it for sale ,being properly inspected they comes in a good condition and have low risks of any problems and issues .
Less used
Most of the unbox phones are unused specially when they are being returned by customers because of its colour or other features .
Comes in original Packaging
Open box phones comes in original packaging ,this means you are  sure you're receiving a Better quality item at a budget friendly price.
These phones contain all of the original accessories, such as the charger, headphones, USB cable and other accessories that come with the original handset.
Cons of buying an open box phones
There are various cons of buying open box phones 
Limited Availability
Sometime accessories are not included with the mobile phones.
Unaware about the History of Phone.
Limited availability
Make sure to look for it thoroughly on the website in order to obtain it; otherwise, you may not be able to obtain it when you want because of their less availability .
Phone accessories may not be included
There is a potential that phone accessories will not be included when purchasing an open box phone; make sure to search for the included accessories before purchasing it from any source. Buy open box phones from websites like mobilegoo.shop where you will get all the original accessories along with your phone .
Unaware of the History of the Phone
When you buy an open box or unbox phone, you will not know the history of the phone, whether it was used for a few months by someone or not but you can trust the quality because it arrived to you after several inspections and quality tests.
However, when you buy from a reputable supplier, such as Mobilegoo, you can be certain in the quality of the products you are receiving.
Benefits of buying unbox phones from mobilegoo.shop
A product that looks like a new one and pre-owned for a very short period. Original product with original accessories and Brand warranty. The product just resale by Mobilegoo.
Original Product with original box & Bill.
Brand/Manufacturer warranty (period may vary from 0-12 months).
Shipped in Original.
Buying Refurbished phones of any condition includes several benefits when shopped from mobilegoo.shop such as
7 days replacements
Upto 12 months of warranty
EMI availability
55+ quality checks
Quick response
Free and fast delivery
Available in many conditions such as Unbox phones , Superb ,Like new and Good
Before buying an open box phones make sure to check the conditions of the phone , looks for any signs ,scratches and dents on it ,Ensure about its warranty from the website you are buying it from ,inquire about the return policy of the phone from the website .
Overall, open box phones might be an excellent option to save money when purchasing a new phone. However, it is critical to be informed of the potential risks before purchasing one. If you need a new phone and want to save money, an open box phone could be an excellent choice.