Blog
What is a Refurbished Mobile Phone: A Complete Guide
by Mahak Garg on Apr 26, 2023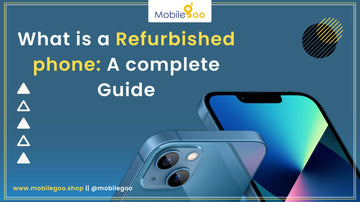 Think about buying your favorite iPhone into your budget. The answer is impossible! Correct? But now, in today's tech-savvy era, it is possible to buy the iPhone of your dreams in the budget.
But the normal range of the iPhone starts from Rs. 45,000, so how is it possible? Buy refurbished phones! As these mobile phones are cheaper than the original one.
Now, before we elaborate on how to buy your favorite handset at an affordable price, let us clear some of the basics of refurbished mobile phones.
What are Refurbished Phones:
A refurbished phone is a pre-owned handset that has been professionally checked to ensure that it is in perfect working order and free of camera, speaker and screen defects.
Let us now discuss about the benefits that one should expect before buying the refurbished phones:
Benefits of buying Refurbished/ Used Phones:
There are many benefits of buying a used mobile phones:
Budget- friendly

Accessibility to the latest technology

Warranty

Eco - Friendly

Assured quality
Budget- friendly:
Most people have the problem that affordable mobile phones have low features and mobile phones with the latest features and technology are not affordable. 
Therefore, the cost of a used/refurbished phone is much lower than a brand new phone, which makes it a great option for those who are looking for a cost effective way to stay connected with the latest features and technology.
Accessibility to the latest technology:
Buying a used or refurbished mobile phone is a great way to access the latest technology on a tight budget. Yes, new cheaper phones are mostly outdated but at the same time refurbished mobile phones have changed the concept.
Warranty:
Used mobile phones usually have some hardware failure or a software error that requires repairing. To ensure that customers receive the fully functioning mobile phone, resellers like www.mobilegoo.shop offer a warranty to cover any issue that arise during the warranty period.
Eco-Friendly:
If you are an environmental defender then buying a used mobile phone is the great option for you as these phones often use fewer resources than new mobile phones.
Assured Quality:
Although Refurbished mobile phones are less expensive than brand - new mobile phones, they still come with quality assurance. With a variety of models to choose from, there is no shortage of great possibilities for anyone looking for a good deal on a phone.
Now, Let's talk about the seller who make sure that the decision of buying a used or refurbished mobile phone
will not put you at a disadvantage:
                                                                            "Buy Big Pay Small"
When you are buying from Mobilegoo.shop, you can be rest assured that you are buying from a Trusted Name as They endeavor to contribute towards a greener environment for a better future by reducing the e-waste from the planet. 
There are many advantages of shopping from Mobilegoo.shop such as:
7 days Replacement Policy

Upto 12 Months Warranty

Available on EMI

55+ Quality Checks

Free and fast delivery

Smartphones are available in Unbox, Like-new, superb and good condition.
Now here, we have compiled a list of frequently asked questions that most of the people ask before shopping from www.mobilegoo.shop.
FAQs Related to Refurbished Mobiles:
Is there a shipping fee?
Answer: No, Mobilegoo does not charge any shipping fees for refurbished or used mobile phones. It is absolutely Free of Cost.
Who should I contact if I have any questions about my order?
Answer: If you have any query, you can contact our customer care number 8007200038 or mail on support@mobilegoo.shop.
How do I trust the quality of the refurbished mobile phones?
Answer: Mobilegoo refurbished mobile phones undergo more than 55 quality checks before they are marked fit for customer usage. 
What if I need to cancel my order?
Answer: Order can be cancelled within 6 hours of order placement or order dispatch by contacting customer care number.
Can I sell second hand mobile phones on your website too?
Answer: Yes, www.mobilegoo.shop not only allows you to buy refurbished or second - hand mobile phones but it also allows you to sell your used mobile phones. One can sell used mobile phone at www.mobilegoo.in.
How long does a refurbished phone last?
Answer: The lifespan of a refurbished or used mobile phone depends on the condition of the phone and how it is used. Generally, a good quality refurbished phone can last as long as a new phone
It is to be hoped that the above article about the refurbished or used mobile phones helped you to gain the maximum knowledge. We are happy to share certain knowledge which helps you to make the right decision while choosing a quality phone at a discounted price.
Hope you find the article informative, and if you have any queries related to this article, please feel free to ask in the comment section. 
2 comments