Blog
Accessorize Like a Pro: Tips for Finding the Best Phone Accessories Online
by Mahak Garg on Jul 30, 2023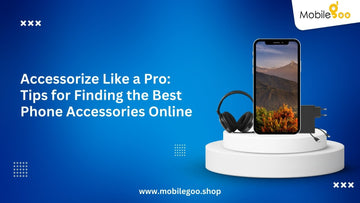 Our smartphones have become an ever-increasing part of our daily life. These devices fit in our pockets and have replaced an assortment of other gadgets and products. It can practically do the job of other gadgets as well. Nothing is flawless, but the accessory industries are doing their best to compensate for any shortcomings.
Want to have fun but don't want to stay outside, like loud music, party songs, and so forth - a speaker is beneficial. Are you concerned that your phone battery will die in the middle of a sorrowful song while sitting in the train's window seat? A power bank is a must have .In this tips we look at the greatest phone accessories available online on several websites such as mobilegoo, from the necessary to the niche!
Here are few tips on how you can get the best accessories online for your cell phone-
Tips on how you can get the best accessories online for your cell phone
There are various tips on how you can get the best accessories online including:
The features are often Exaggerated
Cell phone accessories are broadly classified into two types: passive and active.
These are the one that do not add anything to functionality they rather add some value to its appearance and safety like -Phone covers or cases. These are stuff that you simply load onto your smartphone and you're ready to go.
These accessories such as Bluetooth earphones, wireless charger are the one you need to pay precise attention to . Spend ample time in reading about the features, compare them with what competitors have to offer, and then making an informed decision depending on which phone accessories do you really want.
Pay Attention To The Details
Understanding products and services gives value by supporting you in comprehending why one product or service differs from another and how it may benefit you.
Before purchasing, always look for specifics such as colour, size, battery life, and so on.
Go for third-party accessories if you are looking for affordable options
 Third-party accessories offer an advantage in many ways since they frequently fill gaps in the accessories market. Even in areas where OEMs try to compete, third-party makers provide a significantly wider selection of solutions. These solutions are also often less expensive.
Go through the products recommended by the websites 
Consider additional products recommended by different brands; you might find the one you're looking for, it will open up more options for you .
Don't always get attracted towards the features
Some cell phone accessories online are not that expensive, and some random manufacturers frequently offer a few extra features to the product. Look for what the product has to offer and if you actually need it or not.
Don't run after the trend
Don't constantly hunt for trendy accessories; instead, look for ones that are right for you and will last longer. Some accessories, like as earpods and neckbands, may be trendy, but choose what goes best for you. Sometimes people prefer wired earphones to other options available, and depending on your preferences, there are many options accessible for you on mobilegoo.
Go for a trusted Brand
Invest in some trusted brands over other ones because you know what to expect, it's the safest and most predictable option. Brands provide security and limit the possibility of disappointment. Brand enables you to quickly and readily determine what distinguishes your product from similar ones. Trusted brands such as Philips and many more are now available on the website mobilegoo.shop, where you can try it out and get the best rates.
Look for the best deals and sales available
It's always fun to go shopping and find products you like or have had on your wishlist for a long time at excellent pricing! We all enjoy shopping for deals and going on sales. There are days when different websites offer different sales with a good price and a superior product. Compare the rates and take advantage of the incentives. You might be able to grab one and get the other for free.
Research before making your mind to buy something
A thorough investigation is required to obtain the greatest product for your needs. There are numerous ways to research products and services before purchasing them, including understanding the product's replacement policy, reading product reviews but not solely relying on them and comparing the prices of products offered by different brands.
Going through all the tips and with the convenience of online shopping you can grab the best accessory for your phone. The online shopping provide safety, better prices, varieties, Authenticity, online payment. The primary reason for purchasing mobile phone accessories is security. In the mobile accessories industry, they also help to maximise the value of the phone. It normally performs at a higher level following the addition of these accessories and also has a better appearance prior.
Make Your Decision
Ultimately the decision is yours but if you want to go with the online purchase you can visit the website mobilegoo.shop for exciting deals on high quality accessories.
There are many advantages of shopping from Mobilegoo.shop such as:
7 days Replacement Policy

Upto 12 Months Warranty

Available on EMI

55+ Quality Checks
So, if you are looking to buy accessories then do visit mobileego.shop for the best user experience. You will various accessories at low prices with the best quality, so why rethink and waste your time on unnecessary things, just come to mobilegoo.shop.  
Hope you find the article informative, and if you have any queries related to this article, please feel free to ask in the comment section.