Blog
How to choose the right refurbished phone for your needs
by Mahak Garg on Jul 29, 2023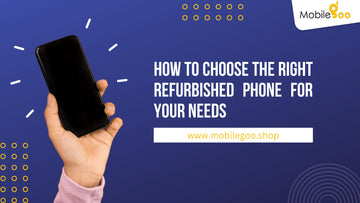 Thinking of buying a brand new model introduced by the brand feels really good, but what doesn't feel well is the drastic price of it. Suffering from dying of your phone in between a phone call, your phone stop working while watching reels, unable to use apps due to storage issues, and much more. No matter the brand, mobile phones are all expensive, and the price goes up much more when the model is new. However, there is nothing you can do about this; how long are you willing to wait for the price to drop?
Nobody can predict when or whether it will occur, but what you can do is get a refurbished phone.
Wait ! Are you considering purchasing a refurbished phone right now? However, how can you pick a better refurbished phone that suits your needs? Do you know where you may purchase it?
This blog has all the solutions you need to purchase the greatest refurbished phone at a great price which is well-maintained and meet your needs.
To start, you need be familiar with refurbished phones. In essence, a smartphone that has been returned to the manufacturer for refurbishment was previously in use. The company then examines the gadgets' internal and external characteristics before remanufacturing them into products with a fresh appearance.
Purchasing a superior refurbished phone is an excellent strategy to save money while getting a reliable device. Refurbished phones vary in quality and functionality; it is best to consider a few aspects before making your decision.
Tips to consider while choosing refurbished phone
Set a budget for your refurbished phone; they have reasonable costs but vary depending on the brand and model you want to buy. Always choose the one that best suits you, has a warranty, and is in good condition. Websites usually have some condition categories from which you can choose, based on your budget and preferences.
Examine your requirements
Make a list of the features and requirements you want in your phone, putting the processor, camera quality, storage capacity, battery life, screen type, ports available, and other software requirements first.
You can compare these requirements to the other options offered and choose the best one for yourself.
Websites such as mobilegoo provide a way for you to check the condition of refurbished phones. They are classified as - Like new, Superb and Good based on their condition, and they come with a warranty of up to 12 months, customized boxes and bills depending on the which category of condition you are willing to buy.
Purchase refurbished phone online You may read reviews of the phone you want to buy and inspect its quality and features online, which is wonderful for getting the greatest possible quality and plenty of other perks and quality checks. Buying it online is more trustworthy and convenient; they provide a large range of selections with better deals and services.
Before adding refurbished phones to your shopping basket, check for websites that offer replacement.
Look for additional benefits
Looking for additional benefits implies that there are websites available that provide refurbished phones on EMI, have replacement policies, warranty, more than 50+ quality checks, and so on.
Mobilegoo is one of them, and you can purchase your refurbished phone from this website. They also provide a broad selection of accessories from major companies such as Philips and Nextech, which you can get for your refurbished or new phone.
Choose a website with more options
Look for the best and most trusted websites to purchase your refurbished phones. Wide options allow you to make better decisions about the products and features you want in your refurbished phones; it is simple to compare the quality and features of one or more products; reviews, ratings, and customer satisfaction are important to these websites, so they provide better and better deals.
Compare Prices and Features
Compare prices and features of items from different brands to get the best for you. There is a possibility that the same features are more expensive in one brand and less expensive in another. Give preference based on whether you want to go with price or brand.
Always go for the most recent models in refurbished phones, as there is a potential that some software may not operate in older models. Check the features carefully and then make a wise choice.
You can go with the best-selling products because they are the most popular with customers and maintain a higher level of customer satisfaction within a reasonable budget. Check the features and functionality according to your preferences and go get the one that best suits you.
Make Your Decision
Ultimately the decision is yours but if you want to go with the online purchase you can visit the website mobilegoo.shop for exciting deals on old mobile phones.
There are many advantages of shopping from Mobilegoo.shop such as:
7 days Replacement Policy

Upto 12 Months Warranty

Available on EMI

55+ Quality Checks
So, if you are looking to get the best deals on old mobile phones then do visit mobilegoo.shop for the best user experience. You will various mobilephones at low prices with the best quality, so why rethink and waste your time on unnecessary things, just come to mobilegoo.shop.  
Hope you find the article informative, and if you have any queries related to this article, please feel free to ask in the comment section.