Blog
Why to Buy a Refurbished/Used Phone over a New One
by Mahak Garg on Mar 17, 2023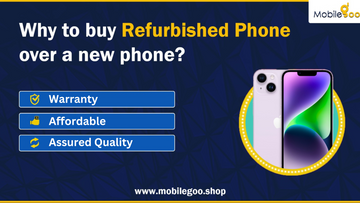 "The mobile phones acts as a cursor to connect the 
digital and physical"
And if you are thinking of buying a new mobile phone then it all ends with their increasing high prices. The average price of an android mobile phone ranges from approx. 12k to 50k, which becomes the reason for many people to quit the idea of buying new mobile phones. Also, people are fond of buying latest tech phones and iPhones. However, one may not be able to fulfill desires, as one has to spent a lot for the same. But nowadays, refurbished or old mobile phones have largely replaced the concept of purchasing new mobile phones, as they are cheaper than brand new phones and at the same time, come with warranty etc. like new phones
Why you should buy a used phone over a new one:
Along with the time, there is a digital revolution happening all over the world and mobile phones become one of the important parts of the modern generation. This high demand makes new mobile phones expensive, which leads people to buy old and refurbished phones.
If you are still confused that why you should buy a used or refurbished phone over a new one:
Let's clear in simple words:
Benefits of Buying a refurbished/old mobile phones:
Affordability:
Smartphone prices have doubled over the past five years, and they continue to rise. Instead of paying thousands for a phone, you can buy the same mobile phone at a cheaper price if it is an old refurbished phone. With such mobile phones, you can get your favorite handset at a more affordable price in comparison to new phone.
Assured quality:
Buying an old /refurbished phone from a reputable seller will result in excellent quality with a very small price tag. Mobilegoo.shop suggest that buying a refurbished mobile phone is much beneficial from purchasing a brand new smart phone as the phones sold here are hand picked and quality tested.
To ensure optimum performance, refurbished phones are rigorously tested before they are offered for sale.
Warranty:
In any market, a warranty is a key benefit and tool to ensure quality of the product, and if you get one with a refurbished/ old mobile phone, it's like a boom. If you are making a deal with a reputed seller/dealer, they will likely offer you a warranty period. This can be a great way to save money on repairs or replacements and gives you peace of mind knowing that you won't be stuck with a faulty device.
Eco Friendly:
Buying refurbished/ used smartphones rather than brand new is a great way to help the environment.  These phones are often more eco-friendly than buying a new phone, and can provide a great way to save money and reduce your impact on the environment.
Now, let us discuss about the numerous points to keep in mind before buying refurbished or old phones:
Points to remember before buying a used phone:
Buying a Phone from a Reputable Seller:
Various refurbished /old mobile phones are aged and have been used roughly, and anything can go wrong with these devices. Thus, buying a mobile phone from a trusted or reputed website like mobilegoo.shop ensures that the device has undergone numerous quality tests and in order to maintain their brand value, only high quality pre-owned phones with minimal signs of usage are sold online.
Warranty period on Refurbished/used Phone:
Like various other mobile phones in the market, key point to check before buying an old phone is whether it comes with warranty and how much warranty period is offered. Warranty becomes an important factor in the case of pre-owned phones, as they may have been used earlier. If any problem arises in the future, it is essential to have a sense of safety.
Replacement Policy:
While buying a refurbished phone it becomes necessary for you to be aware of the replacement policy of the seller. Checking replacement policies of the refurbished mobile phones gives you peace of mind knowing that you won't be stuck with a broken device or device with poor look and feel.
Feedback/reviews of the seller:
If you are purchasing a refurbished/old mobile phone online, it's essential to take the time to read through customer reviews and feedback before making a final decision. As reading through the reviews can give you a better understanding of the quality of the phone, the performance of the phone, and the customer service of the seller.
Let us now discuss the best platform to buy Refurbished phones:
Mobilegoo (https://mobilegoo.shop/)
"Buy Big Pay Small"
Mobilegoo.shop is an initiative of Shiv Mobiles which was established in 2017 at Hisar. It has been actively engaged in the same field from 2011 with a retail - cum - wholesale outlet at hisar. They endeavor to contribute towards a greener environment for a better future by reducing the e-waste from the planet.
 "More we reuse, the less we need to mine & manufacture"
When you are buying from Mobilegoo.shop, you can be rest assured that you are buying from a Trusted Name.
So, if you are looking to buy an old or refurbished phone then do visit mobileego.shop for the best user experience. As buying a refurbished or old phone will not put you at a disadvantage. Also, If you are a smartphone enthusiast who likes to change handsets, it is an excellent option for you!
Hope you find the article informative, and if you have any queries related to this article, please feel free to ask in the comment section.
5 comments